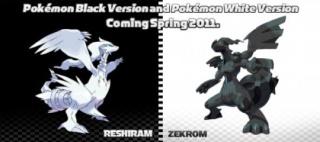 These two new legendaries are set to appear on the covers of the upcoming pokemon versions; Black and White. Reshiram (the white legendary on the left) will be found in pokemon black version, while Zekrom (the black legendary on the right) corresponds to pokemon white.
Information currently known about these two pokemon:
1. Zekrom is a dragon/electric type, while Reshiram is a dragon/fire type.
2. Zekrom's ability is called "TerraVoltage" and Reshiram's ability is "TurboBlaze". it is unknown what effects these abilities have.