Gardevoir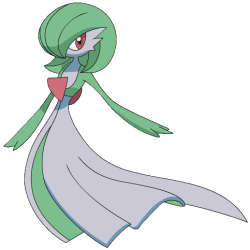 Nature: Modest / Calm
Ability: Trace
Moves:
-Wish / Heal Bell
-Will-o-Wisp / Thunder Wave
-Psychic
-Encore / Thunderbolt / Shadow Ball
Item: Leftovers / Colbur Berry
Information:
-When using Gardevoir, it is recommended that you in some way make use of its amazingly diverse support options. These options include: Thunder Wave, Taunt, Reflect, Light Screen, Encore, Wish, Heal Bell, Hypnosis, Icy Wind (to an extent), Healing Wish, and/or the unique Will-o-Wisp. The above items, come in handy in various situations: leftovers for general healing, and colbur berry to soften the blow when gardevoir is inevitably hit with pursuit, since it should be switching in and out frequently. Trace, rather than synchronize, is suggested, as it distinguishes gardevoir from other psychic types. It also proves to be the superior choice overall; hitting gyarados, salemence, etc with a traced intimidate of your own is too good to pass up.