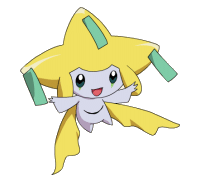 An event jirachi is now available for download as a mystery gift!
This jirachi is obtained on level 5 with the moves:
.confusion
.draco meteor
.rest
.wish
It is downloadable through June 26th to July 16 via your diamond, pearl, platinum, heart gold, or soul silver games. (so if you have more than one of those you can get extra jirachis

)
A bonus pokewalker route is also available after downloading this event pokemon.